5000W DC 24V Split Phase Pure Sine wave Inverter with AC Charger

Ampinvt 5000W Low Frequency Inverter
This 120V/240V AC split phase pure sine wave inverter is a combination of an inverter, battery charger and AC auto-transfer switch. High transfer efficiency is above 90%, , complete isolate surge interference of input & output's voltage and current, Impact resistance, super load capacity, built-in AVR stabilizer, continuous stable pure sine wave output, available at 240Vac (two 120Vac hot lines), and available 120/240Vac at the same time.
Battery type setting choose : SLA / AGM / GEL / Li-ion battery & Customize. Support lifep04 AGM Flooded Lithium, Sealed, Gel, and Flooded Batteries..
Adjustable Charging Current: The max charge current can be adjusted from 0%-100%, 100% is max charge current 35A. Setting the value to 0% will turn off the charging function.
Protections: Battery low voltage alarm / Battery high voltage alarm / Over temperature protection / Over load protection / Short Circuit protection. 110%-120% of the output was maintained for 30s, then the output turned to bypass, more than 160% maintained the 300ms.
Note: Different types of loads have different starting impulse currents. Customers need to select the appropriate inverter model according to the actual equipment power, current, and load characteristics.
ATTENTION:
This Power inverter is able to charge the battery bank when AC power is connected to the inverter.

5000 watt is continuous output power, peak output power is 15000W

This inverter can

 

ONLY

 

work with 24V battery system.
Inverter

 

CAN NOT

 

support connect in parallel.
Inverter

 

MUST

 

have a battery, and the battery

 

MUST

 

be connected first.
Five Woking Mode:
1. AC/Line priority mode -- always use ac power as priority input, provide ac output, and automatically charge the battery.
2. Battery priority mode -- Priority should be given to battery power supply. After low voltage protection, the battery will be transferred to market power supply. When the battery is full, the battery will be transferred back to battery power.
3. ECO Mode---Load < 10% automatic sleep and stop output, load > 10% automatic boot back to normal inversion.
4. Generator mode -- use unstable generator 240V to generate power, access the inverter AC input, through the inverter AVR regulator, automatic matching 60HZ municipal frequency, output voltage regulator in the normal operating range.
5. Unattended Mode---When the battery is low voltage, the inverter goes into standby state(Power saving state). When the battery restores the voltage value set by yourself (such as solar charging), the inverter will restore the normal output of the inverter, and realize unattended full automatic operation!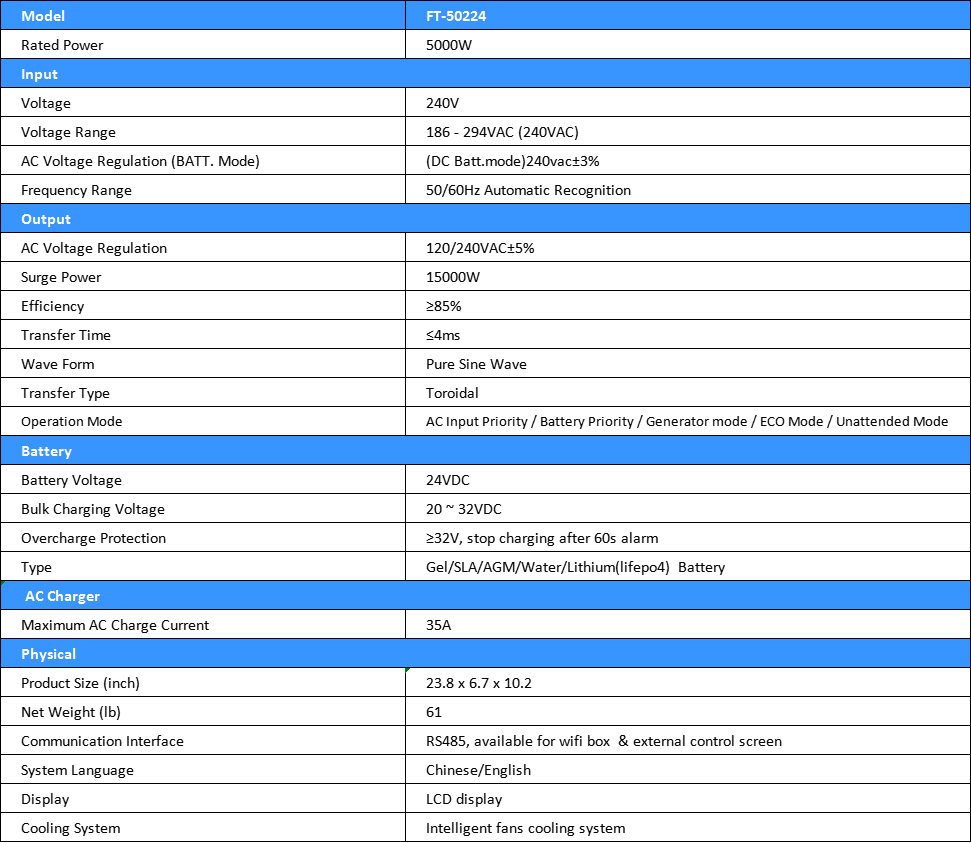 Inverter x1
Power

C
able

x1
User Manual x1
Communication Wires (optional)
External Display (optional)